Hey guys and welcome to the new blog and our very first
The Scrappery Kit Club
design and inspiration post. If you have noticed Kayla and I have decided to do things a little differently with our little kit club. Instead of having a design team straight away, we will design with the kits and provide you with a wealth of blog posts, photos and process videos to inspire your own creativity with the kits. We also hope to feature some of our amazing subscribers here on the blog and show off their works.
But for today I thought I would get the ball rolling with my first Project Life layout in a long time. With getting the business all organised and set up, I haven't had much time to play with my pretty cards. It felt so good to just sit and play and more importantly play with my new set of cards from our
PLK - Pretty Little Kit
.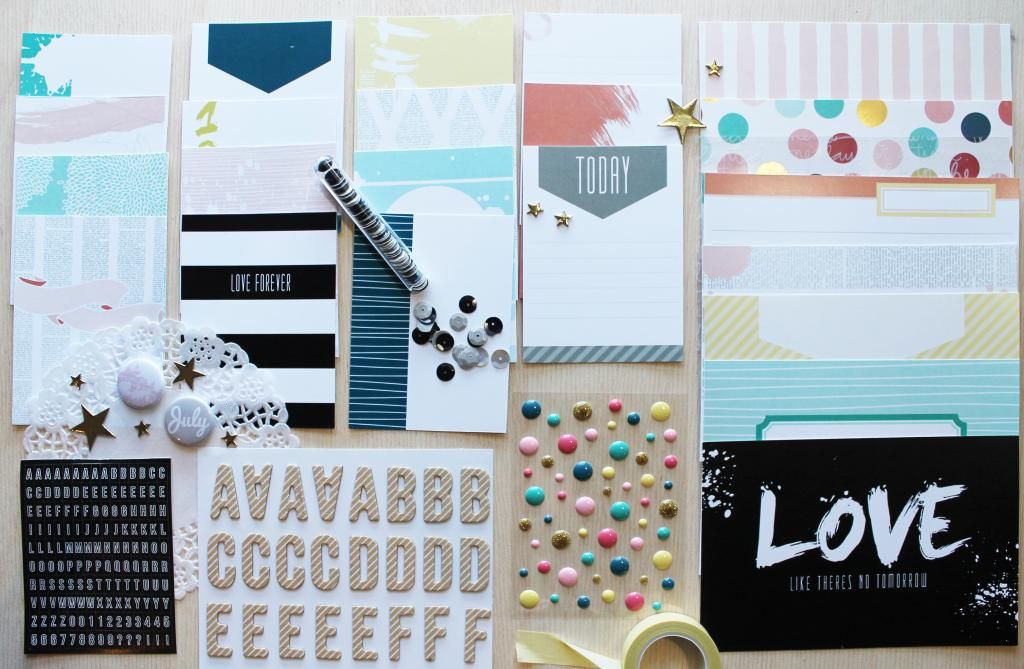 The July kit, Charlotte, is full of beautiful light corals and teals and contrasted with stunning navy blues and blacks. The entire collection is made of original cards created by myself for
The Scrappery Kit Club
. Every month subscribers will be treated to unique card sets. I am so excited to bring this little Australian first to all of our subscribers!!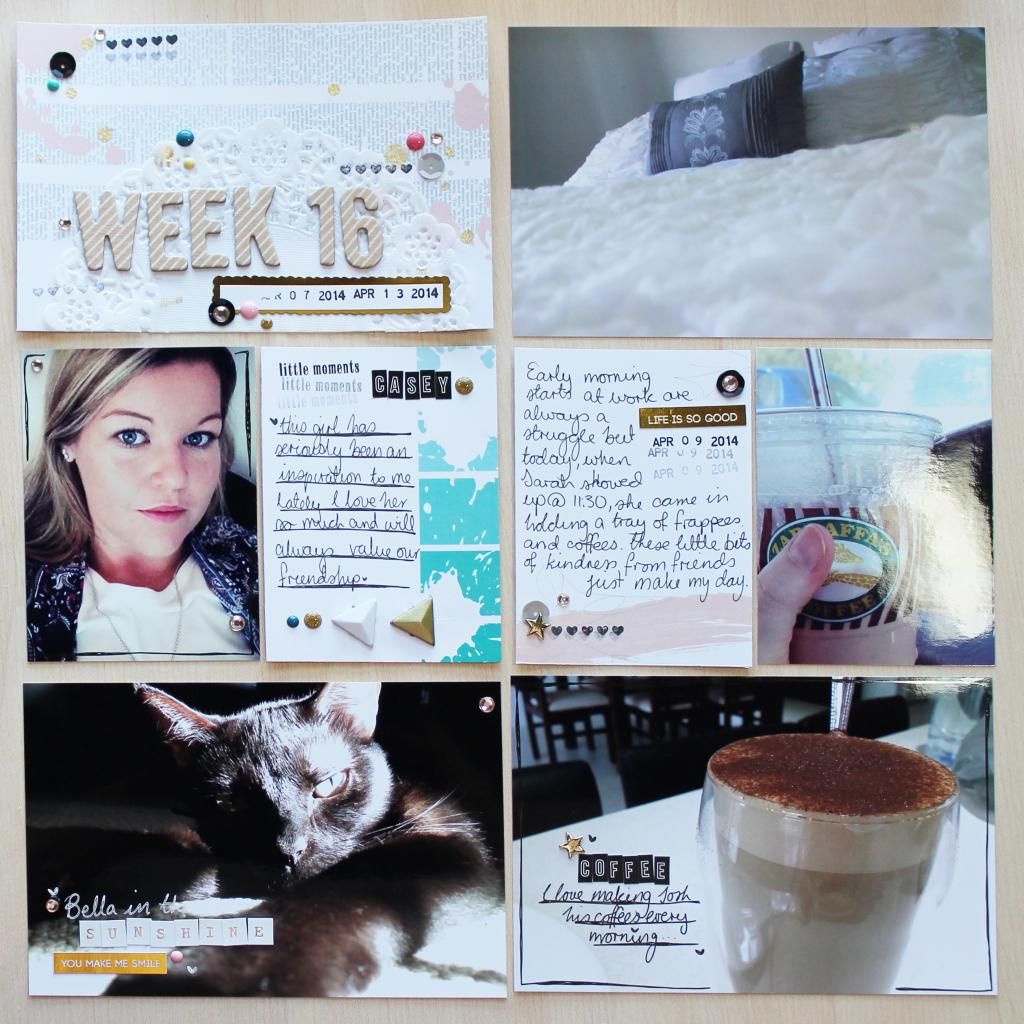 I found it very easy to piece together with the cards in the kit. The cards also enabled a lot of room for journalling. This is something I don't usually do a lot of in Project Life. I have always wanted to journal more as it is about capturing the everyday moments. It felt so good at the completion of this layout to know that these memories will always be here to look at an now I will actually have written notes to remind me of the times in the photos.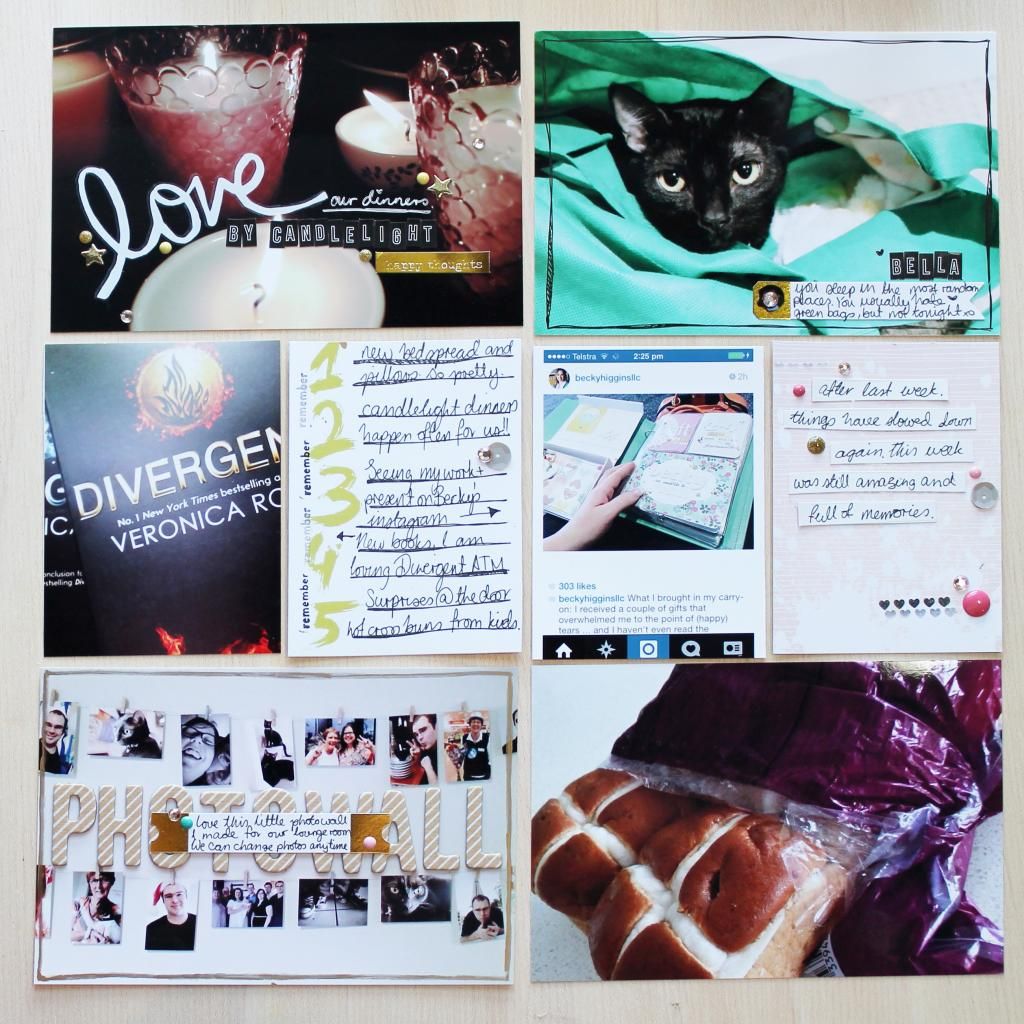 I just love how the layout all came together as a whole. This would be one of my first layouts that I have done that hasn't worked around a particular three colour scheme. I worked more with just the cards as a whole, knowing that whatever combination I used, they would all work together as they were designed to be used in any combination. I just love the flexibility.
I just love title cards. Its the one place where you can really scrapbook (even if it is just on a smaller scale). I really like to dig in and create something beautiful with these title cards. This week I really loved using those SC South of Market kraft and white striped thickers. They just work with any colour combination, a great neutral alphabet. I also dabbled in all things I normally embellish with. Mists, enamel dots, sequins, gems, doilies and I also used some of the cute gold foiled label stickers from our BPK - Bits and Pieces Kit for July, Gloria.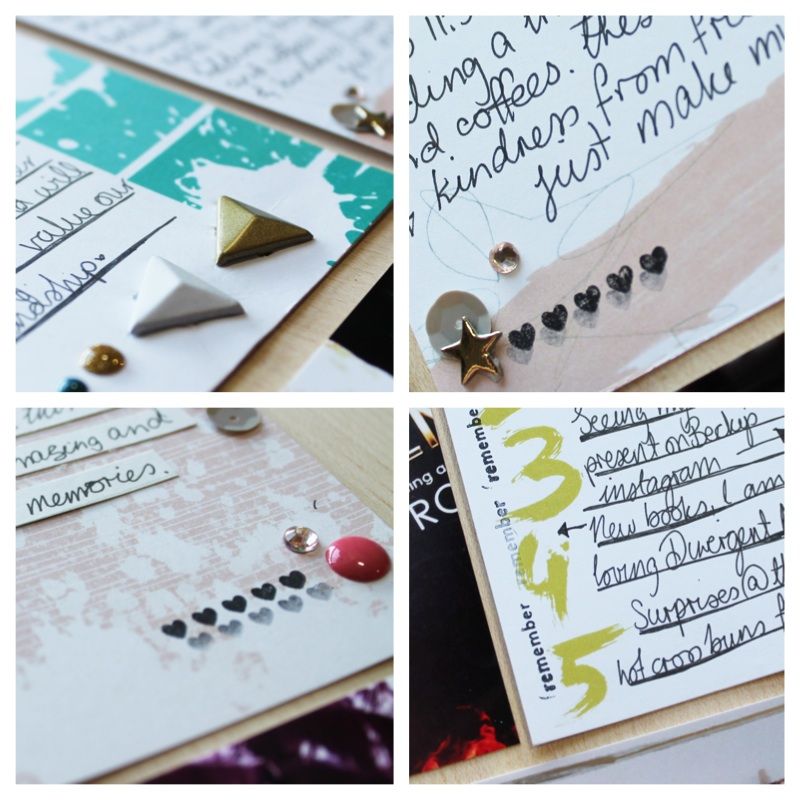 Here are a few more closeups of how I used the cards within the layout. I was really in love with paint splatter and brush script and so I really wanted to give it a go in this months PLK cards. The colours are soft unlike so much of the harsh blacks of traditional brush script. I also used my very first list card ever. I was so excited to get the card out and make a list of all the exciting things that had happened this week.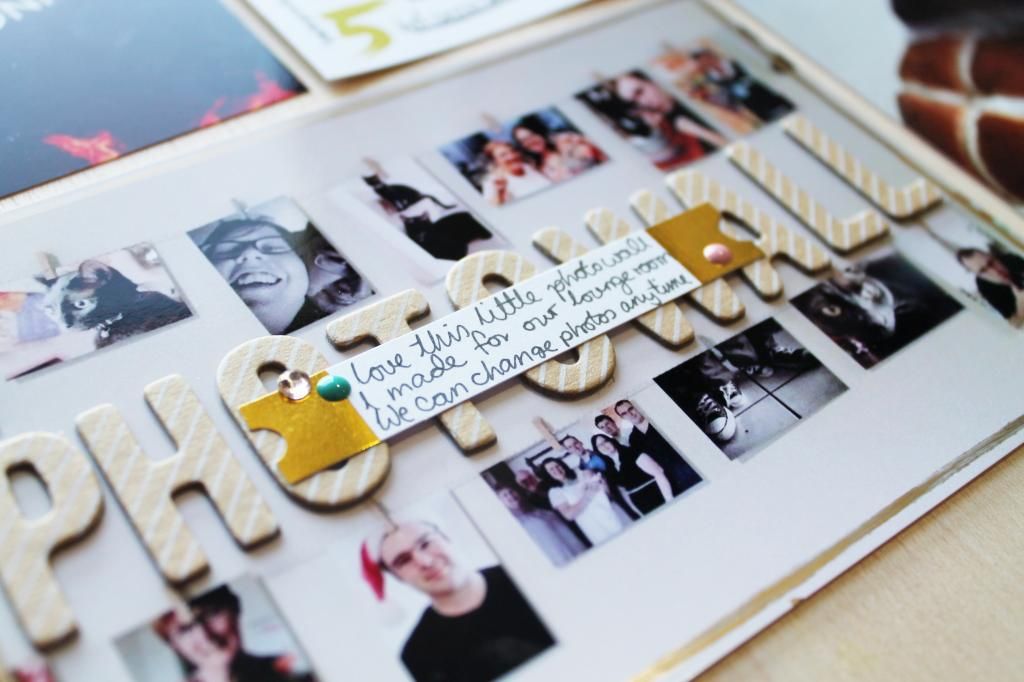 My final piece of love on this layout was the PHOTOWALL card that I made. This week in Project Life I made a photo wall in the lounge room and hung a heap of photos on a few pieces of twine. I really loved how the whole thing turned out and had to document it. I also love how I ended up presenting this card. Once again using those great SC Thickers and a beautiful gold foil label from the PBK. The label allowed a little room for journalling but also allowed you to see all the mini photos captured in the one real photo.
As always with my blog posts and a common thing here on The Scrappery, we will be posting process videos with most of our layouts and inspiration. Click the video below and you will get to our youtube channel where you can see more amazing and inspirational layouts and process videos from both Kayla and myself.
So thats it guys, I hope you enjoyed that layout and don't forget to go over and check out
The Scrappery Website
and sign up for one of our amazing kits. We still have three kits left from this month so if you would like your own set of these cards you can still get your pretty little hands on them
here
.
Thank you so much everyone for your love and support with both Kayla and myself as we start this new little adventure. I honestly had no idea this would happen so quickly but I am so happy it had. I have loved getting to know so many of you and I hope our little community continues to grow. Please don't forget to share with us your creations you make with our kits, we would love to share them in our Pinterest gallery.
Don't forget this week we have our
August Peek Party and our very first Cyber Crop
. Click the link to go to the event page and join in the fun. We will have a heap of challenges to get your inspiration flowing as well as a heap of peeks for the upcoming kits in August.